If you're in the market for an affordable, durable, and luxurious option for your home flooring, Vinyl Plank Flooring is the solution you are looking for. We offer a vast catalog at FS HW Flooring to suit your needs and budget.
Vinyl Planks are multi-play and come in long strips. They contain a rigid vinyl backing layer for thickness and durability. A transparent film layer prevents tearing, and an aluminum oxide layer prevents scratching. A design layer makes it look as close and realistic to wood as possible. They vary in size and length and are one of the easiest floors to maintain.

FS HW Flooring can do it all. Vinyl Plank Flooring installation for your one-bedroom apartment or your sizable two-story home with four bedrooms, three bathrooms, and that large kitchen of your dreams. Amp up your floors and give them a touch of luxury by choosing our Vinyl Plank Flooring services.
What's the advantage of Vinyl Plank Flooring?
Vinyl planks have become a staple favorite in modern homes, not only because of their beautiful touch but because of their benefits. They're substantially cheaper than hardwood flooring (though FS HW Flooring also has a service for that) and achieve that elegant hardwood look without the extra expense.

They're scratch-resistant and won't be damaged by your loving pet's long claws before clipping day. They're waterproof, so they're also ideal for bathrooms and kitchens where spilling water is an everyday occurrence.
They offer variety, like colors, patterns, and designs. You can give your house a modern look or go for something ageless to resemble the look of classic hardwood floors. You will surely find the one you're looking for in our catalog.
They're notoriously easy to clean, and you can use almost every cleaning product without worrying about the planks losing their shine. No waxing is required; their protective layer allows them to keep their luscious shine.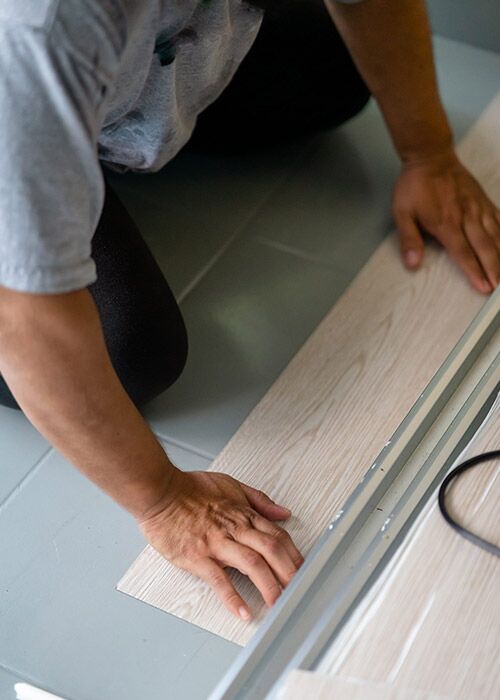 Get the job done right!
Contact FS HW Flooring and start on your Vinyl Plank Installation process. As seasoned professionals in the business, customer satisfaction is our priority, offering competitive prices, quality products, and timely artistry. With us, you can rest easy knowing that you're hiring a reliable floor installation company. What are you waiting for? Contact us today.
Call us at (614) 584-5543 or email us at fs@fshwflooring.com. You can also get in touch with us through our website. Trust us; we are the flooring solution you've been looking for.